After many months Hawaiʻi is starting to reopen our economy and we can't wait to have you experience the beauty and aloha of our island home. The local shops at Kihei Kalama Village need your business now more than ever – so share the cheer, grab yourself a beer and check out our 2020 Holiday Gift Guide! 
Find the perfect gifts from these wonderful retail locations. More locations opening every week!
808 Clothing started in a garage in Kihei in 2006 with a vision of a clothing line that made you feel like you were always in Hawaii, no matter where you might be in the world. Perfect holiday gifts include Hawaiian Island hats and cloth masks that will keep you safe and feeling tropical year around. They also sell great unique shirts online in at the storefront.
The small hook hat ($22.99) and Hawaiian-themed cloth masks ($9.00) are perfect examples.
Mahina was born in Hawaii, a place surrounded by warm ocean waters, where you can share a beach with sleeping turtles, hike luscious forests, and best of all, where people are kind and happy. Lucky for them, too, that a lot of those kind, happy people happen to be women who love good style.
Mahina is well known for its beachy styles that Maui fashionistas love. The Hot Sellers and other new arrivals are updated regularly on their website, but the Maple Romper and Boyfriend Cardie (below) are some great examples. Shop now at: shopmahina.com
The hidden "gem" of Maui. Ocean Obsession creates seaglass & shell earrings, necklaces, cuffs and bracelets. This beautiful jewelry represents generations of life by the sea. The local company is owned by a 4th generation Maui girl and they stand behind their craftsmanship 100%. Treat your own special mermaid (or yourself) with one of these precious gifts. 
All shells in the collection are drilled and buffed by hand then added to precious metals to form beautiful, wearable jewelry. There is no better place to purchase a reminder representative of your time spent on Maui. ?
Stop by the store at Kihei Kalama Village near the central koi pond or visit her Etsy eCommerce store at: etsy.com/shop/OceanObsessionMaui

Spice up this year's Thanksgiving turkey or holiday ham with Hawaiian ingredients from Tutu's Pantry. These simply delicious ingredients will transform your meal, whether you're cooking on the grill, stovetop, air fryer, smoker or oven.
The online store (brick and mortar is currently closed) is where you can find the best of nature's ingredients straight from the source. Everything from meat rubs, to jams, and sea salt can be found at this local favorite shop. A wide variety of natural and organic foods — all grown in Hawaii!
Tutu's Pantry takes the work out of gift giving by creating ready-made gift sets. For those who like an extra kick; feel the heat with The Best Hawaiian Hot Sauces Gift Set. The grilling men in your life will love the Tutu's Pantry for the Grill Gift Set. Close your eyes and imagine you are in warm and sunny Hawaii with a beautiful and delicious Maui Pancakes and Syrups basket.
Spread Aloha Not Germs with great finds from Sunkissed Wahine! Located at the kiosk storefronts within Kihei Kalama Village, this is a store for the ladies, and all of the products are made in Hawaii. Sunkissed Wahine believes in supporting local artists and their craft.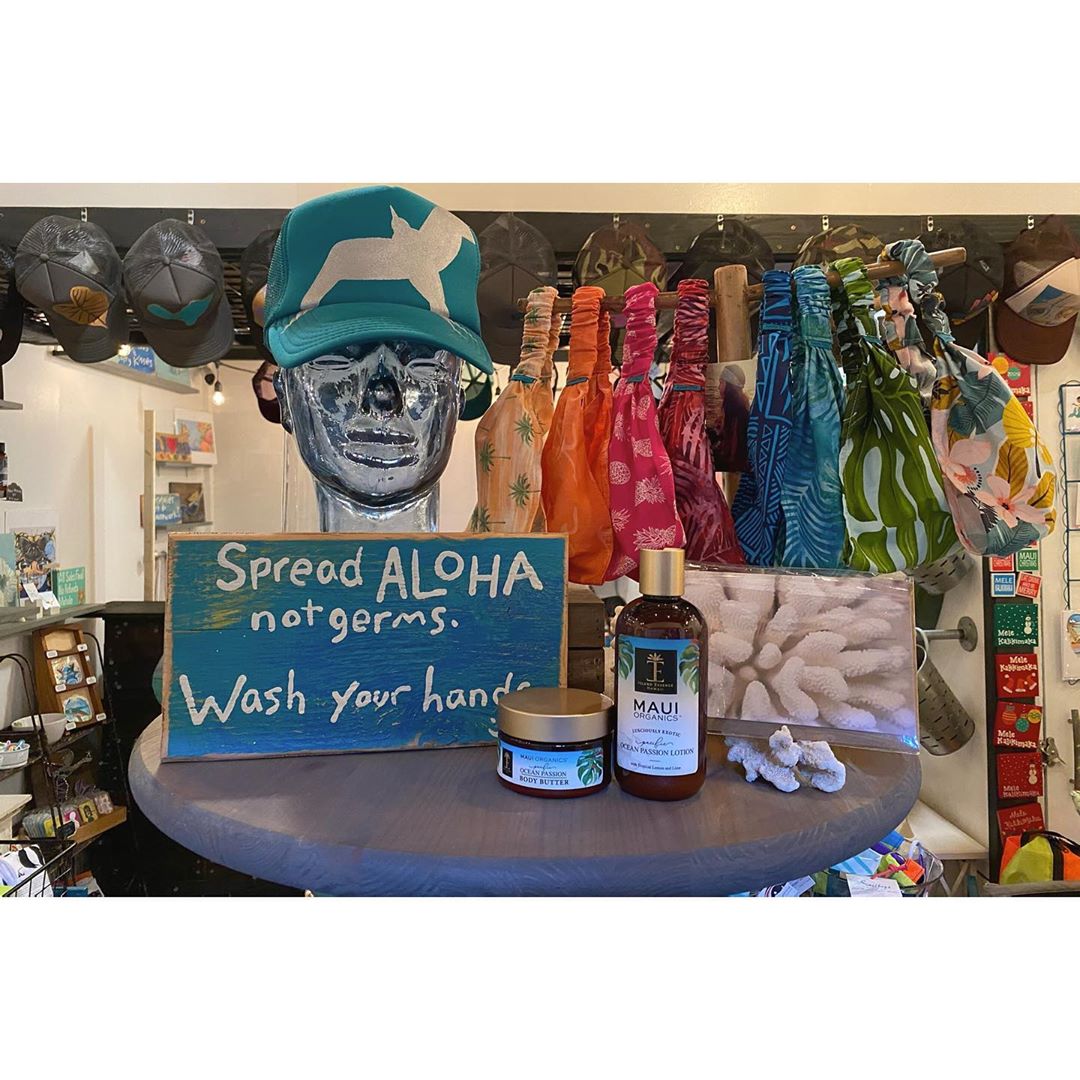 The owner of Sunkissed Wahine created the business as a place for you buy a birthday gift for your bestie or find a nice pick-me-up for yourself. Find something unique and pretty while knowing that you are doing your part in supporting a local artist versus a large corporation in some far away land.
Some of our island-picked favorites include the Becky B Dog Bandana (on sale) and the Maui string art and beach signs. Also clean off the ocean salt with body care soaps like Exfolicare Loofah Soap – Coconut Mango and Filthy Fauci Soap!
Shop Now at Kihei Kalama Village Unit # 1941 A7 or online at Sunkissed Wahine.
If you're looking for a gift that will stick around, Maui Tattoo Company is a gift that will last a lifetime! Just try to schedule your appointment towards the end of your visit, because once you are inked you cannot swim in the ocean or expose it to the sun for up to two weeks.
Kalani Jewelry & Gifts is a local souvenir shop offering a wide selection of unique merchandise made with Aloha. Address: 1941 S.Kihei Rd #H-2, Kihei, HI, 96753. For easy access, enter through the back parking lot entrance and walk towards the middle of the shopping area.
Kihei Kalama Village is the iconic shopping center located at the center of Kihei. There are a variety of Kihei's best restaurants and bars to choose from, many with live music nightly. Browse over forty shops in the huge open-air marketplace. More businesses are opening every week. Hope to see you soon!